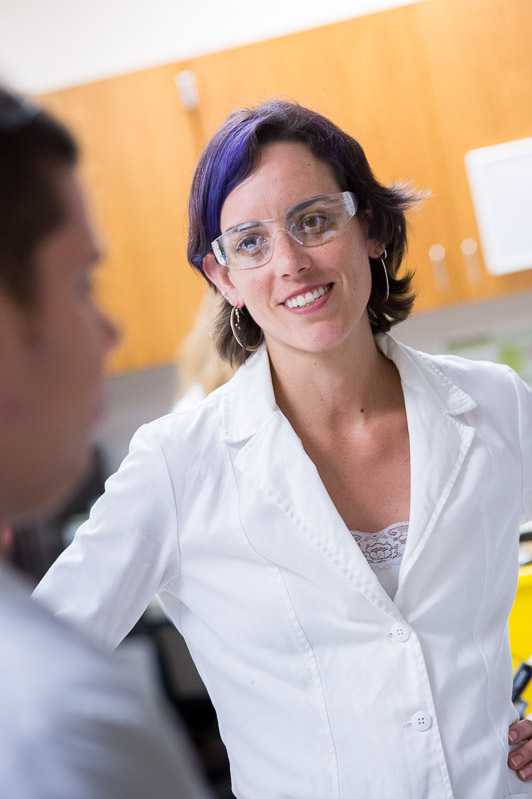 I am a biochemist with a fascination for the brain. I conduct research to understand the molecular interactions between brain proteins and drugs that alter behavior and experience.
If you are a Skidmore College student and are interested in working in my group, please view my research synopsis.
You can meet a few of our past team members in our video profile from Skidmore's Scope Magazine.
Education

Employment

Assistant Professor of Chemistry Skidmore College - 2012–present

Honors

Faculty Development Grant Skidmore College - 2013

Career Launch & Acceleration Workshop Award COACh - 2012

President's Young Investigator Award ISBRA - 2010

Fellowships

Earl C. Anthony Graduate Fellowship UCSF - 2001–2

Invited Talks

Selected Conferences

Biophysical Society

Platform Co-Chair, Philadelphia, PA - 2013

ISBRA

Symposium Chair & Talk, Sapporo, Japan - 2012

Society for Neuroscience

Nanosymposium Chair & Talk, Washington, DC - 2011

Teaching

Organic Chemistry Pomona College (TA) - 2000

General Chemistry Pomona College (TA) - 1998–9

Service

AMC Biomedical Sciences Club Career Symposium Speaker - 2013

SEE-Beyond Program

Faculty Development Committee - 2012–2014

Publications